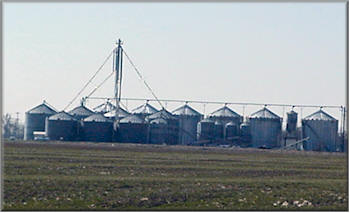 Fifteen years ago, Don Kittler was a lot like other farmers in the flat Delta country around Carlisle, AR, producing rice, soybeans, and wheat in rotation. Since then, however, he's become a model for diversification, expanding into a variety of new businesses:
Growing, conditioning, selling and shipping specialty grains.
Building on-farm grain storage and handling systems as a local dealer for the GSI Group, Assumption, IL (

www.grainsystems.com

)
K & K Farm Service, Inc.'s most recent venture has been growing, conditioning, and shipping specialty grains for niche markets. Premiums over conventional grains are paid, depending on the type and overall quality of the grain.
Several years ago, Don Kittler purchased a small elevator for handling specialty soybeans. By the beginning of 2000, he had 8,000 acres of area farmland under contract to produce natto soybeans. The existing facility simply lacked enough storage capacity to handle the volume of soybeans under contract.
In February 2000, K & K Farm Service, Inc., acting as its own contractor, began construction of an all-steel 250,000-bushel elevator north of Carlisle to handle the increased volume. The facility was finished in July, 2000. Due to increased demand, this facility's capacity has since been increased to 320,000 bu.
Storage consists of four 60,000-bushel GSI corrugated steel tanks, standing 48 feet in diameter and 55 feet tall at the eaves. The flat-bottom tanks are equipped with 10-inch GSI sweep augers.
Four of the six tanks are equipped with two 30-hp GSI centrifugal fans capable of generating 1/5 cfm per bushel aeration, while the other two have 60-hp fans that can produce ½ cfm per bushel.
Incoming wagons and trucks empty soybeans into a small 300-bushel receiving pit.
Instead of conventional legs and conveyors, however, grain handling is accomplished with a 10-inch diameter "grain loop" traveling above, below, and to either side of the facility. The grain loop, manufactured by the former David Mfg. Co. (acquired by GSI in 2000), acts as a continuous drag conveyor, using chain-mounted paddles to move the soybeans to and from storage tanks. This was not only less expensive than legs and conveyors but was also gentler on the grain.
Grain is unloaded into a 3,500-bushel surge tank, mounted between two tanks. Then it is trucked two miles to K & K Farm Service, Inc.'s in-town facility for processing. From there the grain is shipped in bulk containers via rail and oceangoing vessels for export.
Excerpts taken from Grain Journal Magazine, 2001